Mastering the fine art of miniature furniture with
CDHM Artisan Tom Walden of Tom Walden Miniature Furniture
.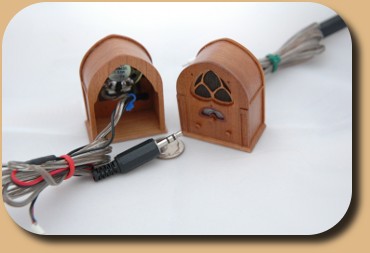 Would you ever attempt to create Cabriolet table legs with a drill press? Probably not, but then again, you're not Tom Walden!
Tom lives in Palm Bay, Florida, not too far from NASA's Cape Canaveral, Kennedy Space Center.
"Yes, I can step outside of my house and watch all the rockets launch," he said. However, NASA isn't the only amazing attraction in this neck of the woods.
When it comes to giving Tom a title the only appropriate one would be "Master Craftsman," or possibly "Artistic Impresario," because his skill at creating finely detailed miniature furniture deserves nothing less.
Tom's miniature creations include working miniature radios, tables featuring beautiful veneers, bands and inlays, parquet flooring and clocks from mantel to Grandfather. CDHM Artisan Tom Walden dollhouse miniature furniture maker in 1:12 scale, custom furniture
"And whatever custom furniture people want me to make, 99% of it 1:12th scale. Any smaller than that and you lose detail and must resort to laser cutting - which must be painted to hide the burn marks. I tend to make high quality furniture mostly for collectors, and they definitely prefer natural wood in 1/12th scale."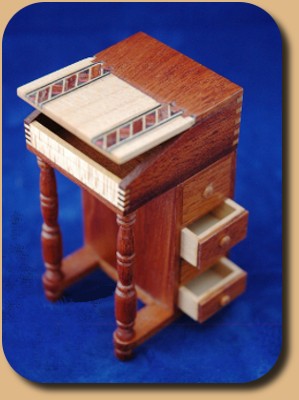 Tom is a computer programmer by trade, currently working on two programs for National Association of Miniature Enthusiasts (N.A.M.E.), but as soon as he can tear himself away from his keyboard you'll find him in one of his workshops.
"I have an inside workshop for assembly and finishing, and cutting, which I do on a Preac© table saw, and another workshop out in the garage for the really messy and noisy work like drill presses and disk or orbital sanding."
In addition to the Preac©, Tom has an array of both power and hand tools which he uses. Along with an endearing sense of humor he engages to describe them all!
Workshop covered, he went on to list his favorite material, feigning surprise.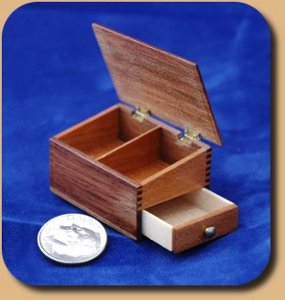 "Wood, of course! All colors and flavors. Gotta love the smell of that sawdust! I have some 16 varieties of wood that I can construct miniatures with; makes for a great variety when making parquet floors. My favorite woods are snow white holly and pure black ebony - but they are very expensive and hard to get in the sizes I need for miniature work."
With so many to choose from, which tools do Tom use most frequently?
"Table saws and drill presses. I can do magical techniques on both of those machines that most people never dreamed possible."
So, about those Cabriole legs...
"I teach my own workshop titled "The Magic of the Drill Press" that has been quite a success story for me. This is because I teach techniques and tips for using the drill press that you can use for numerous projects back home, not a sub-set for a specific piece of furniture. Students learn the real magic of using a drill press for shaping miniature furniture. They are totally amazed at the end of the day!"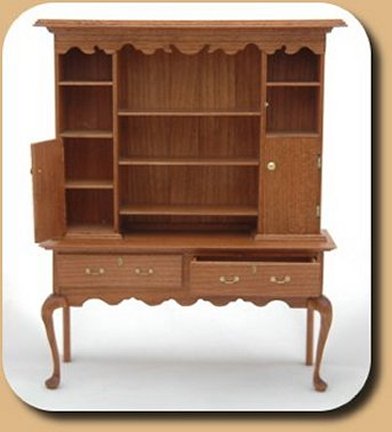 Teaching others may be a result of his own learning experience.
"I have taken several workshops at the International Guild of Miniature Artists (IGMA) Guild School. Those were the best workshop experiences I ever experienced - but quite expensive. I did, however, meet some very talented instructors and new friends there that also made it worth the trips."
Tom credits two instructors in particular, Julian Biggers and Jack Blackham, who are both IGMA Fellows.
"If you're going to learn, then learn from the best."
Tom might be familiar to readers of American Miniaturist magazine, where he was better know as "Toolbox Tom". Between 2008 and 2009 Tom wrote 24 articles titled "Tom's Tool Box" and has been published numerous times.
"My first feature was in the full-scale Woodcraft magazine. They displayed one of my miniatures illustrating 1/32" finger joints. Then I followed that up with a four-page article in the same magazine on the IGMA Guild School. I was also published in the Doll's House and Miniature Scene magazine in the UK, and Dollhouse Miniatures, then in 2010 I wrote articles for the NAME Gazette on various Tips and Tricks."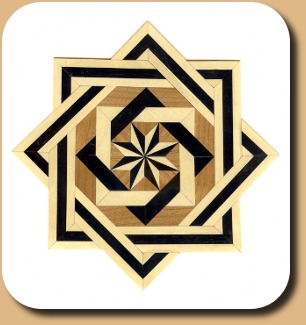 Between all of the computing, publishing and miniature making what does Tom do in his spare time?
"What? You mean there is a life outside of miniatures? Actually I have been involved in youth soccer for the past 27 years. And there's always time for... Sleeping! And spending time with my tadpole, a gymnastic, thrill-seeking, honor student daughter we adopted from China."
On a more serious note, Tom does have other enjoyments apart from making miniatures.
"I love history and visiting ancient historical sites. I've been to 21 countries on five continents - and still have a few more places I would like to visit. I also love to visit museums in foreign countries. Our USA museums are nothing compared to theirs. But then again, our history is nothing compared to theirs either."
Not only a world traveler, Tom is also a collector of items from the places he visits.
"I collect plates, cups and carvings from the many countries that I have visited. Some are made of ivory or silver or ebony, or a combination thereof."
"Let's see, I have (subject to increase): four Preac© table saws; two Cameron© drill presses; a Byrnes© CDHM Artisan Tom Walden dollhouse miniature furniture maker in 1:12 scale, custom furniture four-inch table saw, a disk sander, and a thickness sander; a Sherline© vertical mill; a scroll saw (it's still a virgin); three lathes - CarbaTec©, Unimat©, and Taig© (two with duplicators); 14 Dremel© Moto-Tools; Preac© thickness sander; four-inch wide belt sander; and lots of hand tools and jigs. What is on my worktable? A big mess, and usually three to six projects in various stages of production: clocks, parquet floors, tables, prototypes and a top secret item."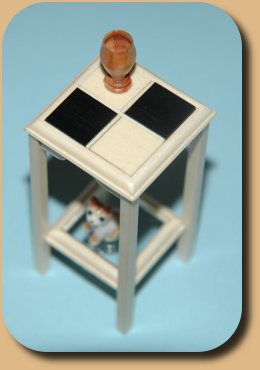 Most miniaturists have a "dream" piece or setting that they would like to create at some point in their careers, and Tom is no exception.
"There is an old curio cabinet that belonged to my grandmother that I would like to make in miniature. It has a lot of glass, carvings, curves and turnings. Maybe when I retire I will have the time to build one of these. It would take several months to build one as it is so complicated."
CDHM Artisan Tom Walden dollhouse miniature furniture maker in 1:12 scale, custom furniture So what else does the future hold for this craftsman/teacher/traveler/father and part-time humorist?
"I would love to retire and create miniature furniture fulltime. I have a ton of designs/projects I would like to work on, but just do not have the time to work on them yet. I would love to see some of my work in a museum or in Miniature Collector magazine as part of somebody's collection. Also, I'd like to be one of the most sought-after furniture workshop instructors in the country, although I don't feel I'm at the skill level that I would like to be. I consider myself at the 'bachelor degree' level and still need to get to the 'master's' and 'doctorate' level."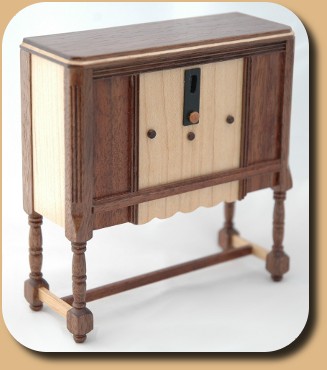 You won't need a crystal ball or powers of precognition to tell that all of Tom's hopes for the future will definitely come to fruition. All you need to do is stroll through his
CDHM Gallery
to see what he can create. Not just furniture for a dollhouse, but things of true beauty and elegance.