Small Scale Zone, by CDHM Artisan
Courtney Strong of Courts Miniatures
, Staff Writer
It is a dark and stormy October night.? All of your miniature-making tools are in front of you as you prepare to begin a new creation.? Perhaps you have an exact idea in mind as you begin to work. ? Then you hear a whispering voice, so quiet at first as if it's just in your head. . . or is it?? It's getting louder and louder by the minute, daring and taunting you to try it, but do you dare to venture into "EEK!!!!!!" - The Smaller Scale Zone???
Does the thought of working even smaller strike fear into your heart?
Why not give it a try? Conquer your fears of the unknown and step into smaller scale miniatures. Many of our CDHM miniature artisans have dared to do just that and are not letting the incredibly shrinking scales scare them away.
CDHM Artisan Melissa Hart of Midnight's Dream Miniatures
had quite the welcome challenge presented to her when a customer wanted a 1/12 scale hutch recreated in 144 scale. By thinking outside of the box, her creative juices flowed as she found items she could match or tear apart to make them smaller.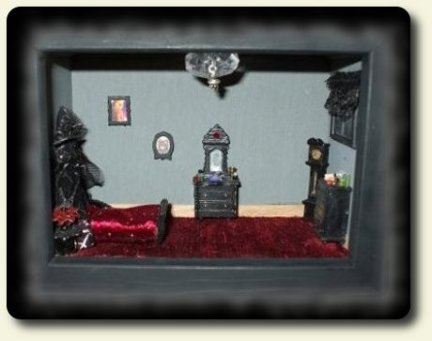 In this beautiful Gothic 1/144 scale roombox there is even a teeny crystal ball and spell book!
Multi-talented
CDHM Artisan Linda Masters of Miracle Chicken Miniatures
finds that the scariest part of working in smaller scales is when the item breaks when you are almost finished. Linda is always challenging herself to work even smaller than before. This challenge has lead to her famous carvings of the very tiniest of animals atop toothpicks and matchsticks.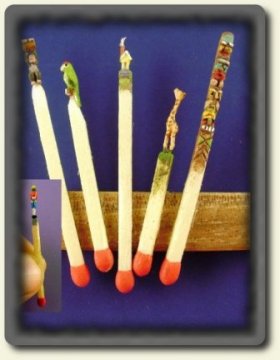 CDHM Artisan Mariella Vitale of Muffa Miniatures
crochets thread bears and other animals in 144, 1/24 and 1/148 scale for the dollhouse miniature collector Mariella Vitalle of Muffa Miniatures crochets adorable items for all occasions, but this breathtaking tiny pumpkin-headed sweetie is crocheted measuring only 28mm tall. He really brings out the sweeter side of Halloween.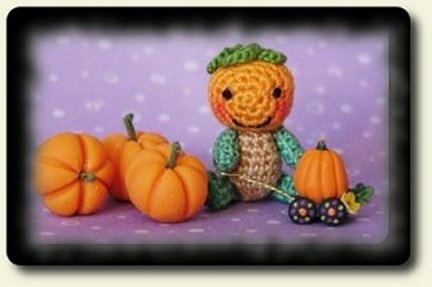 For Mariella, the most frightening aspect of working smaller is wondering if it's not quite small enough. Marveling at her miniatures, I just don't think she has anything to worry about!
Don't let your sense of humor die this Halloween. This 144 scale Haunted Tower created by
CDHM Artisan Pat Carlson of Pat Carlson Miniatures
has the funniest gravestones with sayings like "I told you I was sick," "Elvis was here" and "I'm with stupid" pointing to another gravestone that says "Stupid".
Even the ghouls need to get their party on - don't let the spooky exterior of the tower fool you. These ghouls are rocking! On the inside there is a Pumpkin Carving Contest going on the first floor, ghosts dancing to music from the haunted juke box on the second floor and even tiny bats pole dancing on the top floor.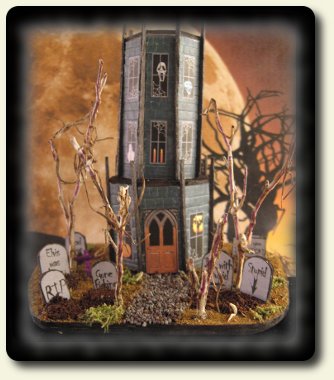 A haunting dilemma among many micro miniaturists is the perils of floors and carpet! Incredibly tiny items that can barely be seen by the naked eye may occasionally fly away by themselves as if by an unseen hand - maybe they are all getting together for a secret Halloween party now? Or perhaps they will be sucked up into the vacuum cleaner netherworld.
Pat and Mariella have experienced such loss. Pat finds the sound of the clicking of a tiny dining room table or sofa being chewed up to be very creepy.
Mariella knows that there may be a fish, a bunny's head and some little legs lurking in her carpet.
No matter the scale you collect or create in, there can always be room for something smaller.
Here's to hoping that working in smaller scales won't be horrifying anymore!
Happy Halloween from
CDHM.org
!