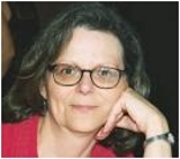 "My name is Monica, but many people in the
cyberworld know me by my nickname, Yahzmin.
I've been making full-size baskets for about
15-years now, and miniatures of all kinds for about
10-years.
Finally, last year, the 2 great passions of my life met, merged -- and now I make miniature baskets of all shapes, sizes, materials and kinds.
I can do custom work in almost any color scheme with my fiber baskets, and can dye my black ash many colors as well. Even when left natural, my black ash baskets can be accented with cording in a shade to match your decor, so feel free to email me with special requests.
To see my current posted stock of miniatures, including many types of baskets, floral arrangements, etc.
Monica was awarded Artisan by IGMA, International Guild of Miniature Artisans in 2011 in the category of Accessories/Baskets.
Visit more of Monica Graham, IGMA Artisan, of M-M-Minis'
CDHM Gallery
.