Like many other miniature artisans, CDHM Artisan Abby Benner of Mini-Quest has always loved tiny things. Ten years ago her daughter, then age nine, decided she liked tiny things too and requested a dollhouse for Christmas.
After a trial and error period of trying to make the "green" in the dollhouse, decorating from kits, Abby realized that she could do this on her own and started laying out plans for her own green. She designed new plants and flowers and had so much fun doing it that before long, the house was fully landscaped.
Today, Abby creates amazing 1:12 scale as well as 1:24 scale flower arrangements, potted vegetable plants, and laser cut leaves for those DIY miniaturists.
§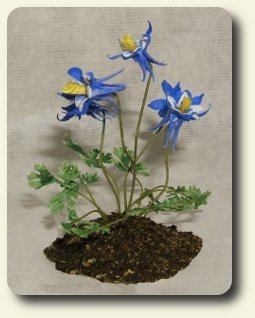 §
§
§
www.CDHM.org Copyright 2004-2013 All rights reserved.